Valley Driveway Sealing Specialists
Valley Seal Coat specializes in driveway sealing and repairing your asphalt driveways. We first clean and prep your driveway surfaces for sealing then we seal cracks, repair damage, and then apply a complete driveway sealer to give it a fresh new look and assure long life and serviceability.
Valley driveways are especially susceptible to cracking and damage cause by severe weather conditions, freeze thaw cycles, studded tires and long hours of direct sunlight during our long summers. All of these factors can shorten the life of your asphalt surfaces which can reduce property value and mean very costly repairs.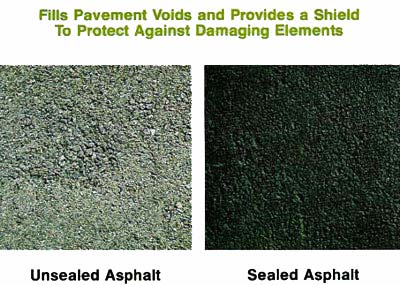 The way to avoid this problem is by regular asphalt maintenance which includes cleaning, sealing cracks, and then applying a driveway sealer. Our driveway sealcoating technique totally seals cracks and voids which prevents water is from seeping into cracks and damaging the asphalt surfaces. A fresh coat of driveway sealer gives the surface a fresh new look and increases the longevity of the surface of your driveway for years to come.
Valley Driveway Seal Coating and Driveway Sealing
Seal Coating a residential or commercial parking or drive approach area can greatly increases curb appeal and property value. Asphalt repair around your home or business can also greatly reduce risk or a fall or injury resulting in increased liability.
Driveway sealcoating and repair is one of the most cost effective ways to maintain your asphalt surfaces and minimize the effects of harsh Mat-Su Valley weather.
Driveway seal coating seals asphalt surfaces, fills voids, and keeps water from entering cracks which weaken the driveway or asphalt. When temperatures drop, the water freezes and breaks apart the surface which causes thousands of dollars of damage. Driveway sealcoating is a must in Alaska.
Valley Driveway Seal Coating | Sealing | Driveway Repair | Asphalt Repair